As a business owner, you always want to ensure that your products are visible to potential customers. After all, if people can't find your products, they can't buy them! That's why it's important to ensure your products are visible in Google Search.
Google is the most popular search engine, handling over 3.5 billion daily searches. If you want people to find your product, you need to make it visible in Google search results.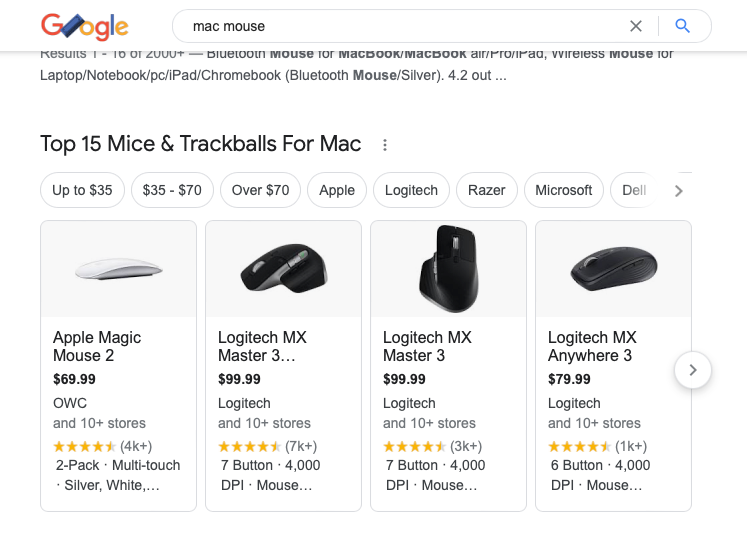 Optimizing your product listings for Google Search can ensure that your products are more likely to appear in search results, giving you a better chance of driving sales.
To ensure your products are visible in Google Search, you'll need to optimize your product listings and website for search engine optimization (SEO).
In this guide, we'll share tips on how to do both so you can increase your product's visibility in Google Search.
1. Choose Relevant Keywords
To maximize your chances of being well referenced on Google, the keywords associated with your products must correspond as much as possible to the requests that Internet users will enter. They must be relevant and correspond well to the query.
You can quickly determine the most effective keywords by asking yourself: What queries will users make to find the product?
You can use the Google Keyword Planner to find the right keywords for your product. Once you've found the right keywords, you need to use them in your product title, description, etc.
It would be best if you also used them in your product images and videos.
2. Use keyword-rich titles and descriptions
Make sure your titles and descriptions are clear and concise and include relevant keywords that potential customers are likely to search for.
Consider what potential customers might be searching for, and ensure those keywords are included in your product listings.
In addition to using the right keywords, you must ensure your product listings are optimized for Google's search algorithm. It means ensuring your titles and descriptions are clear and concise and that your product images are high-quality and relevant.
3. Make sure Your Website is Google Friendly
The search engine favors well-structured and optimized sites. It is important to follow certain good practices to appear at the top of SERPs.
Google tends to favor sites that use a tree in categories and subcategories, with well-organized HTML tags (an H1 for the title, H2 and H3 for the primary subtitles, a meta description, etc.).
Also, consider integrating internal and external links, if possible, as they are part of the elements taken into account by Google to reference your site in SERPs better.
4. Create a Google My Business Listing
Google My Business launched in 2009. It allows owners to present their companies in search results better.
Suppose the Google My Business listing does not directly affect your eCommerce store SEO. In that case, it will enable you to submit your strategic products in a dedicated tab to gain more visibility.
You can also add Clickable Learn More buttons to redirect users to the corresponding product pages.
5. Offer Mixed Content
Websites that offer mixed content (blog articles, images, bulleted lists, videos.) are appreciated by the search engine. Consider incorporating these elements on your product pages to increase your chances of being well-referenced. For example, you can add blog posts or video tutorials.
Attention, the content added must still be related to your product; otherwise, the Google robot may not understand the interest of your page and thus lower your SEO.
6. Make Sure Your Website is mobile-friendly
In a world where more than 50% of searches are done on mobile, you must adapt your site to different screen resolutions—using a responsive design and integration technique that automatically adjusts a web page to the device's screen size to make these changes.
Nevertheless, using this technique, website loading time may be slightly increased. You can also choose to develop a mobile app for your website, which users can use to access your eCommerce store on Mobile. If you don't want to make an app for your website, ensure it is responsive and has cross-browser support.
Google knows how to recognize sites that adapt and penalizes those that do not. So consider using a responsive design system in your eCommerce store.
7. Promote Your Product on Social Media.
Social media can be a great way to increase your product's visibility. Use hashtags and post links to your product page to help people find it.
8. Optimize your images.
Google uses images to help determine the content of a page. Ensure to include high-quality images that are correctly sized and named with relevant keywords.
9. Use Structured Data.
Structured data is a code you can add to your website to help Google understand your content. Google will then use this information to display your product in search results.
10. Use Google Shopping
Google Shopping is a great way to increase product visibility and drive traffic to your eCommerce store. You can create product listings and include information such as price, availability, and product reviews.
Conclusion
Increasing your product's visibility in Google Search can attract more potential customers and boost your sales. Optimizing your product listings and using the right keywords can make sure your products are more visible in search results.
If you need help building a Google Optimize eCommerce website and also need to do SEO on your eCommerce store, don't hesitate to contact OrixLab. We have a team of expert eCommerce website developers and also digital marketers.