Are you looking for a free website builder? Wix is a popular choice for many people and has a good reason. It's user-friendly, has plenty of features, and, best of all, it's free!
Wix's web design teams work to regularly release new website templates in the latest trends, providing their users with functional layouts with customizable features and all for free.
This article will show you 13 of the best free Wix templates for you to use in 2022. Whether you're creating a website for your business, blog, or portfolio, these templates will help you get started.
Wix Template For Personal Blogs
1. Personal Blog
The simplicity brought by this thin black line layout brings a classic feeling to your Blog. The combination of the main font and the purple secondary color catches the eye of your audience, who will scroll through your page quickly, focusing on the essential content elements.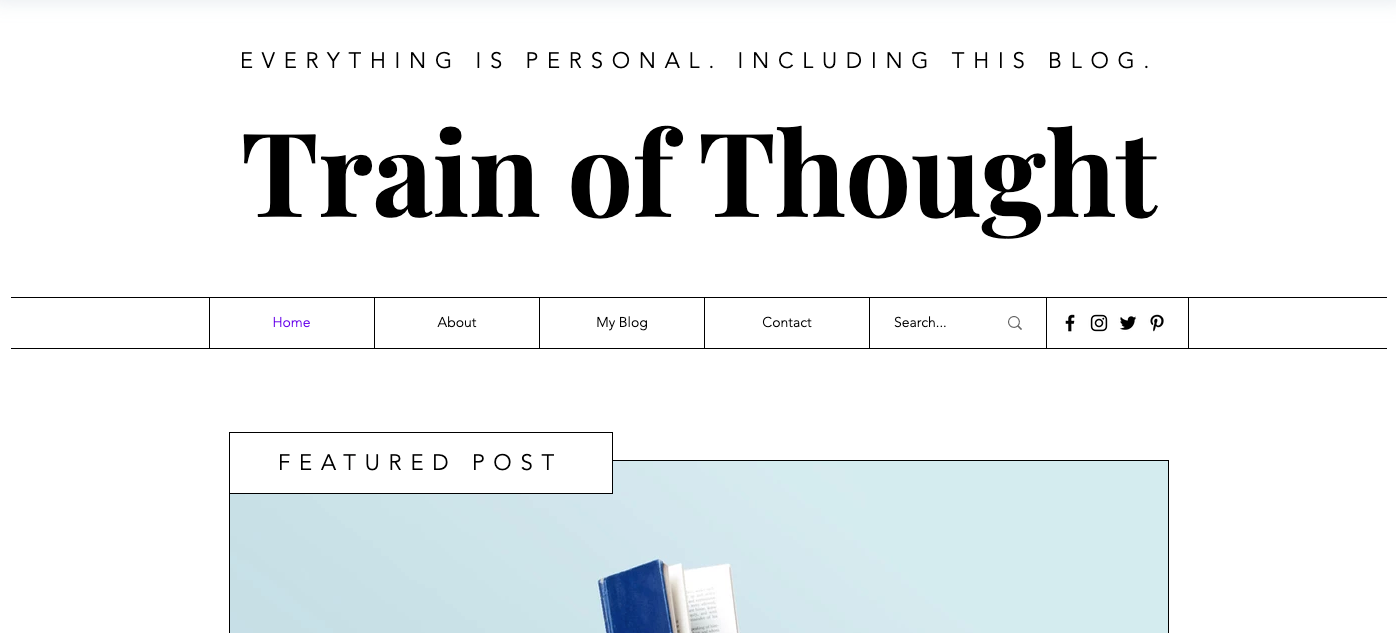 Personal Blog has everything you need for a blog, from an "article" page, subscription section, article summary pages, and even an online form for readers to leave a message.
2. Artist Blog / Podcast
If you are a musician or want to put a podcast site online, you can use this type of template to create your website to promote your music or shows. It is one of the most colorful Wix templates on offer, of which you can customize the graphic charter.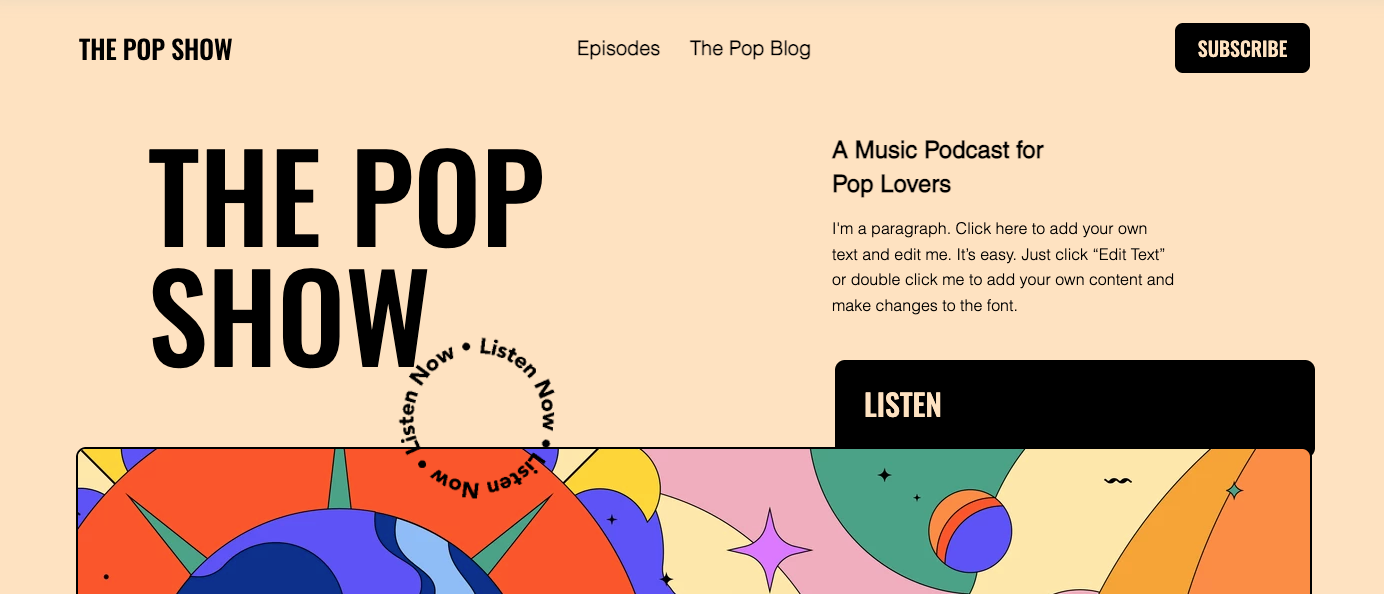 Beyond its very "pop" design, the template offers a large format CTA above the waterline to encourage visitors to listen to your podcast (or your music). It also includes a widget to present the links to your download platforms and a photo gallery. The Pop Show will then serve as a starting point to the favorite media of Internet users, who will listen to you on their favorite application!
3. Food Blog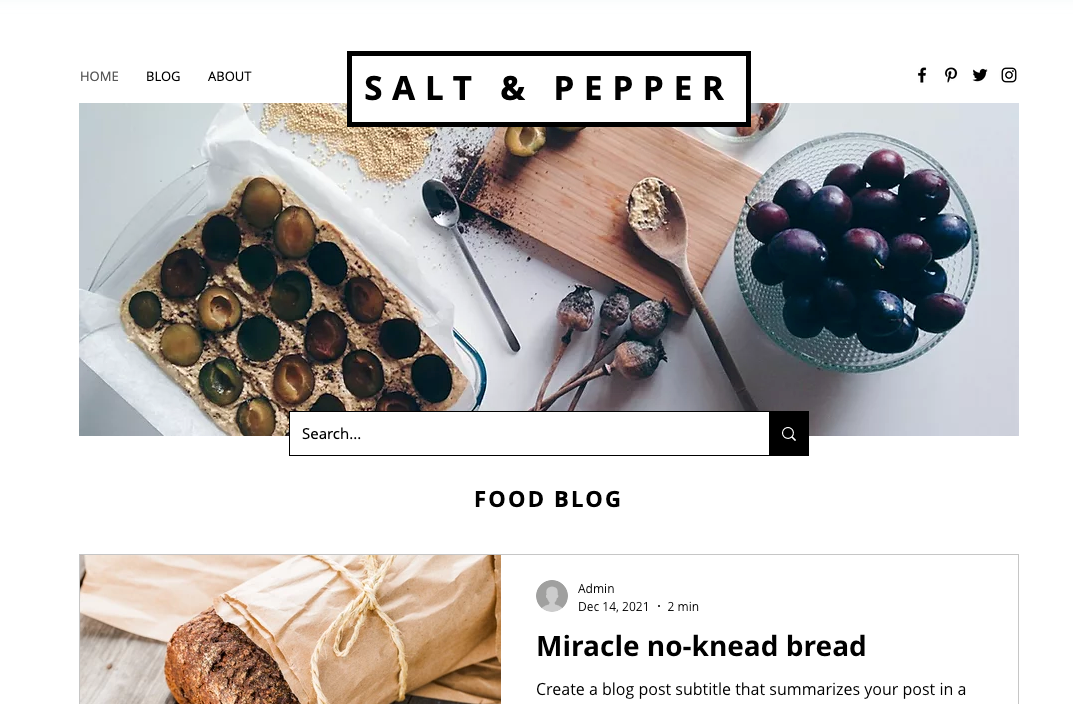 Ideal for food bloggers, chefs, influencers, and dieticians, the Salt and Pepper theme (fully responsive) is designed to showcase your food photos and grab your visitors' attention as soon as they arrive. Its elegant layout allows you to display your pictures with large image previews in a grid where both columns are equal in width, and the second is for writing your presentations.
The "contact" page model is uncluttered and well-designed, like the site. A CTA also invites visitors to register to receive your latest taste discoveries!
4. Fashion Blog
If you are looking for a template that will dress up your fashion blog, the "Fashion Diva" template could be perfect for you: this pack includes the home page, the blog page, the Contact, and the About pages.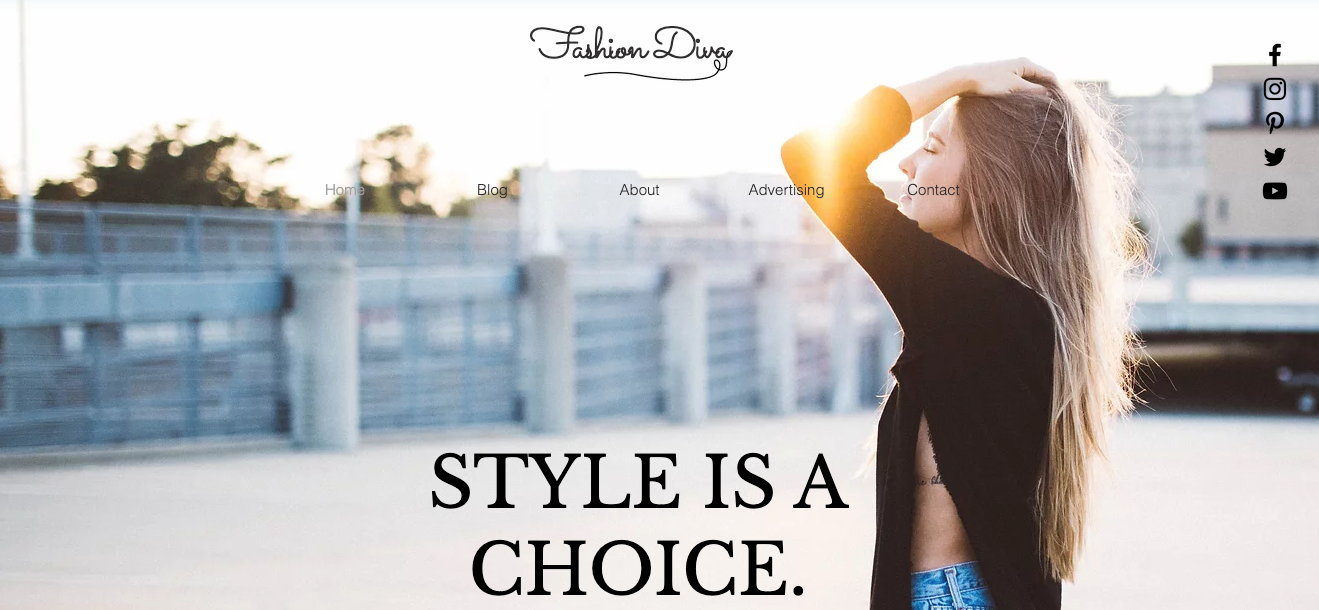 This template stands out because of the large header image, which is fixed in the background and uses a parallax effect. Choose this image wisely. It is the one that will capture the attention of your visitors and lead them to your content more easily.
5. Sports Blog
Creating a successful sports blog is not enough to raise iron. It is the structure of your site that will attract your audience. The Wix Crows Nest template has everything you need to make your theme site successful. An impressive header image with a parallax effect on which the front page bites creates a feeling of excitement that only sport can provide. Moreover, combining "bright" orange, black and white makes your site lively and dynamic.
Other valuable sections make the homepage complete and professional, with a calendar of upcoming meetings, another parallax image, and several CTAs.
6. Travel diary
This Wix template is hard to beat if you want to develop a well-designed travel journal quickly. "Travel Blog" has an ideal design to showcase photos of your travels, and use these images to invite your visitors to explore your site further. With a large, full-width header image, followed by 3 "category" photos, you can quickly upload your most representative images from each trip.
The default layout of the home page of this template includes a "partners" section to display the logos of the media that talk about your travels or the companies you have worked with and a list of your articles, the most recent, of course, giving pride of place to their main image.
An import widget from your Instagram feed is a particularly relevant feature of this Wix template: by entering your Instagram account information, you can use this section, located in the footer area of ​​your website, to display the latest photos in your profile.
Wix Template For eCommerce Website
7. Clothing Store
On to business! Designing a fully responsive online store for a clothing store becomes a simple process as soon as you adopt a pre-made template. Like all other templates designed with Editor X, this one comes with scroll and hover animations, a modern content layout, and a professional design.
Of course, you can modify the template using Editor X to add, modify or remove features, content blocks, and other sections.
8. Single Product Landing Page
Do you want to design a high-performance landing page to present a product you want to promote in detail? Ideal for creating a landing page for tech products, the "Track Mate" template comes with a minimalist and dark design, equipped with large sections highlighting both images and the main assets of your product.
Using this template, You also can Integrate Wix's online store solution to drive visitors to the product. At the same time, call-to-action buttons are thoughtfully placed throughout the page to drive conversions.
9. Restaurant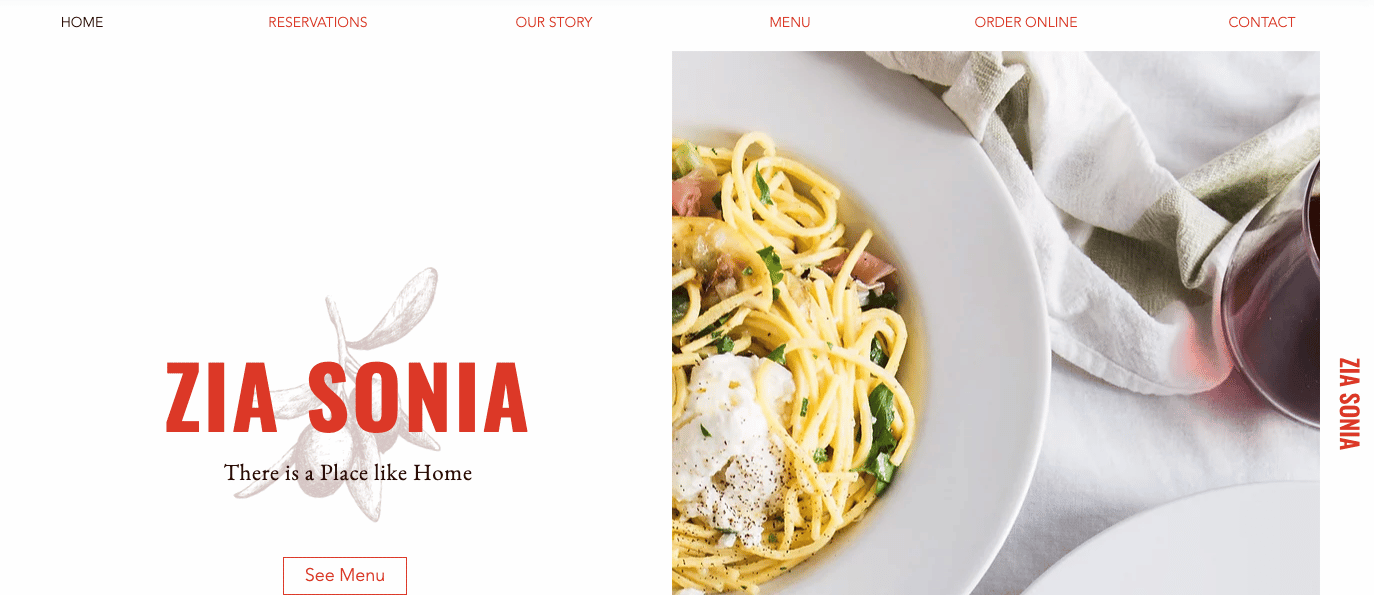 The "Zia Sonia" template is one of Wix's most famous restaurant templates. It features an attractive full-width two-column design, making it easy to create a site for a restaurant or cafe wishing to showcase their menus to attract attention. More customers. It has multiple layouts and even an online ordering and table reservation form.
Wix Template For Business and Service
10. Coach (life, sports, etc.)
The "Success" template should be suitable for anyone offering online coaching services: this template is a convenient option for whatever services you offer. The homepage layout chooses a classic format, tested and approved many times.
A section at the top of the homepage displays a photo (of yourself or something related to your business). Below, you can use the price list section to list your different formulas before finishing the contact form allowing your visitors to send you a message quickly.
Other page templates are available for possible blog posts, and of course, for the services page, essential to present in more detail what your visitors expect to find. Like all the templates in this article, this one is fully responsive to ensure that your visitors can view your content and connect with you, regardless of screen size or device type.
11. Consulting
While Wix offers many templates for creating an attractive website for different types of businesses, this one is designed for marketing and consulting agencies. "Optimo Conseil" presents a modern home page with a slideshow allowing visitors to choose and explore different case studies, image galleries, and a presentation of the service annex pages.
12. Schools
Don't be fooled by its name: Roundhouse Karate School is designed to create websites for all schools and other sports clubs. It comes with a neat and complete design, with pages to present the courses offered by the school, the profile of the teachers, and the programs, and even supports the integration of Google Maps to locate the school.
The template is modeled after a karate school but fits very well with many other types of schools or educational organizations.
13. Service
The "ITG" template is ideal for promoting a wide range of services on a Wix site, whether or not you offer IT services to your customers. Its homepage features a large header image, which can hold your visitors' attention and invite them to continue exploring the page, or they will find a space where your main highlights are prominent.
Other elements on the homepage include a testimonials slider to share feedback from clients you've worked with (and build social proof) and a CTA to encourage your visitors to enter your sales funnel. Finally, a classic contact form allows them to send a quick message asking questions about your services efficiently.
10 Wix Alternatives
Wix is a popular website builder that has been around for a while, but it may not be the best option for everyone. Here are 10 alternatives to Wix that you can use in 2022:
Conclusion
As Wix grows in popularity, more and more templates will be available for users to choose from. While some of these templates will be paid, many free templates will still be available for users to choose from.
If you're looking for a stunning and free website template, you can't go wrong with any templates. Each one is modern, responsive, and easy to customize. So, you'll find a perfect template for creating a website for your business or personal blog.
If you would like to get help setting up a theme on your Wix site and make Internet users want to interact with your content, you can contact OrixLab. We have a team of expert Web Developers who will help you set up and configure your Wix site within your budget.